Ghent Family Jewelry's one-size-fits-most beaded bracelets are created to fit the average women's and men's wrists. Our UNISEX bracelets are made approximately 8" - 8 1/2" in length (when laid flat prior to closing off the bracelet) 
If you're unsure about sizing and how your bracelet may fit, please send us an email with your wrist measurement, and if you would like a loose or snug fit.
Alternatively, you can include your sizing information in the notes section of your order. The fit is completely according to preference, and there is no right or wrong here. (snug, loose, etc.)
HOW TO MEASURE YOUR WRIST
Choose where you want your bracelet(s) to rest. Once you decide where you want it to rest, it's time to measure.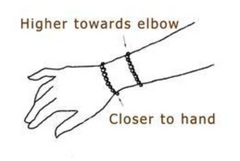 To determine your bracelet size, measure your wrist with a flexible tape measure (you can also use a string and measure it) just above the wrist bone away from your hand where you would typically wear a watch, or wherever you want your bracelet to rest like mentioned above.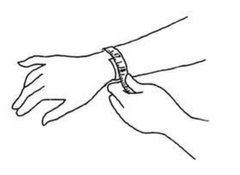 When purchasing Ghent Family Jewelry bracelets as a gift and you are unsure of the exact wrist size, a general rule of thumb is:
7" fits a women's small wrist

7 1/2" fits a women's medium wrist

7 3/4" fits a women's large wrist

8" would fit a women's extra-large wrist
For men:
8" bracelet fits a small wrist

8 1/2" fits a medium wrist

9" fits a large wrist